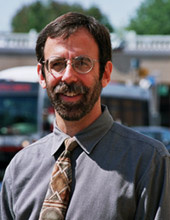 When I was in acupuncture school my favorite day was Monday, the day I treated patients in the school's walk-in acupuncture clinic.  The clinic was free, so money never entered the picture.  That was wonderfully liberating for both the patient and for me.  If someone needed ten treatments, there was no barrier to getting them.
Then I opened my own clinic and things changed dramatically.  I charged today's equivalent of $90 a treatment – less than most acupuncturists – but it was still a significant cost.  If a patient needed ten treatments, how many could easily afford $900 out of pocket?  Money had become a barrier and I was getting little fulfillment from my practice.
Then I discovered the Community Acupuncture movement.  There are now over 200 such clinics in the country.  With a cost of $45-$55 per treatment, money is again no barrier.  I love practicing acupuncture this way!
The low price is made possible by the unique styles of acupuncture I learned from several masters around the world, which do not require that patients undress to receive treatment.  Instead of individual treatment rooms requiring a great deal of space (expensive), I treat patients in comfortable recliners in one large, soothing treatment room.
What acupuncture styles do I use?  I studied Yamamoto-style acupuncture in Japan with Dr. Yamamoto himself, a brilliant surgeon who performs surgery using acupuncture alone for anesthesia!  I studied extensively with the famous Taiwanese acupuncturist (now living in San Diego) Richard Tan.  I studied European ear acupuncture with Germany's most famous acupuncturist and author, Beate Strittmatter, and also with America's premier auriculotherapy expert and author, Terry Oleson.
I graduated Magna Cum Laude from Midwest College of Oriental Medicine, was the American Association of Acupuncture and Oriental Medicine 2005 Acupuncturist of the Year, and served 3 terms as president of the Illinois Acupuncture Federation.  You will not get more effective acupuncture anywhere, at any price.
---
IPHONE USERS: Please do not rely on your iPhone to navigate to our office; it will take you to 737 N. Milwaukee Ave in Vernon Hills (instead of Libertyville), about ten minutes south of here. This does not seem to be a problem with Android devices.
Libertyville Acupuncture
737 N. Milwaukee Ave. Libertyville, IL 60048
847-796-0123
In Liberty Square, behind the old Caribou Coffee, next to the train station